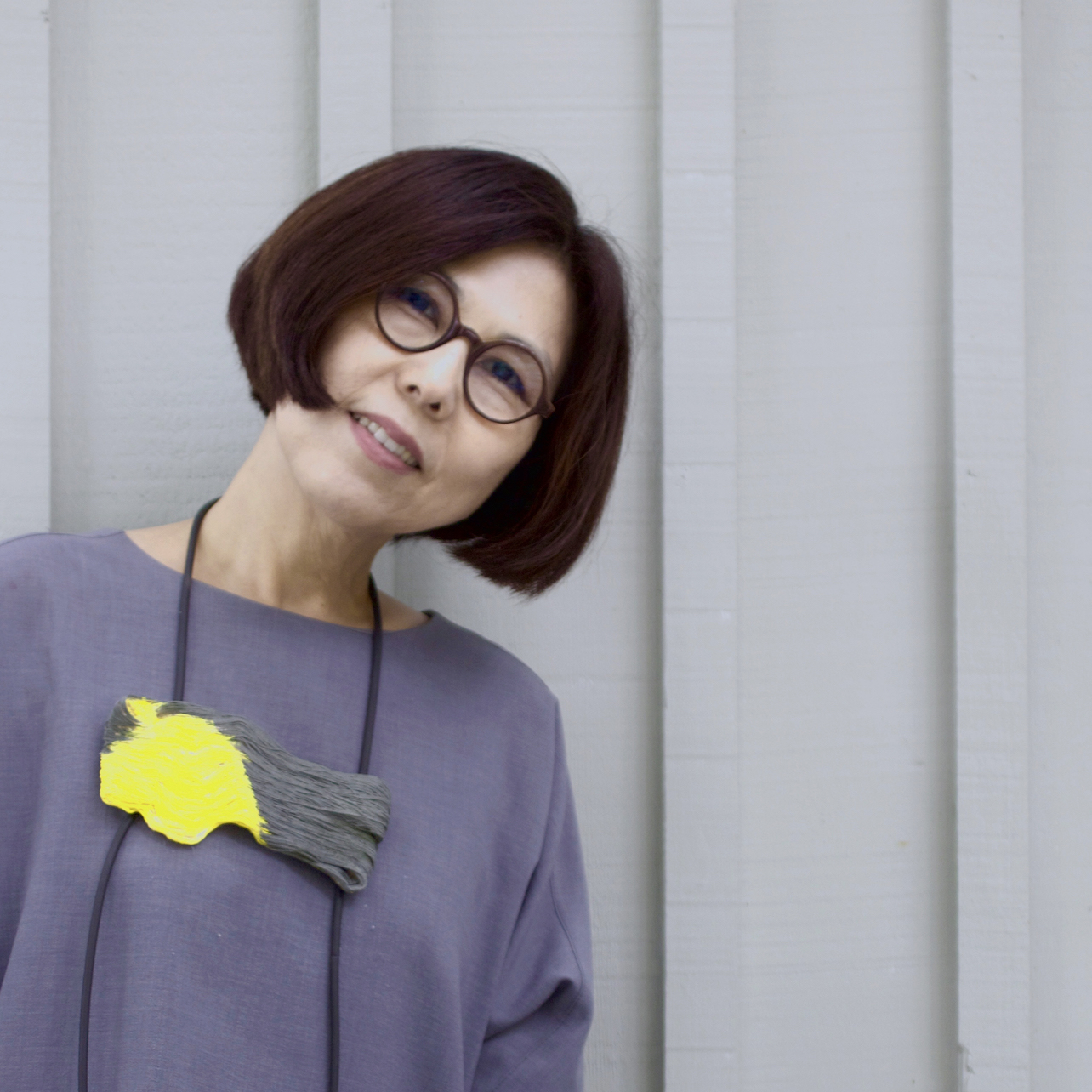 Myung Urso
Myung Urso is a contemporary jewellery artist living and working in the USA. Her intuitive and spontaneous creative process leads her work to become both painterly and sculptural at once. Myung's aesthetic enhances the innate textures of materials. The beauty of imperfection, simplicity and spontaneity that she inherited from Korean culture are strongly applied to her art in how she works in a playful manner with uneven and irregular shapes.
If you had access to all the powers, how would you improve the world?
Dreaming of living in the Garden of Eden, we would live with animals and plants in pure air without plastic and nuclear, enjoying the natural ways of life.
What are the biggest sustainability challenges in your work and how are you addressing them?
I actually have been using relatively organic and sustainable materials such as natural fibers and paper materials with simple techniques such as hand stitching and calligraphy as my studio is located inside our house. I have also been watching how to discard waste from my studio. I have been using recycled materials for my work from the beginning on, such as old shirts, fabric leftovers, old books, paper packages, recycled paper baskets, egg cartons, drift wood, wood dust, shells, sand and other abandoned materials. I think artists are able to avoid chemical or any artificial materials if we consider the environmental issues in a constructive way. We can always find a perfect and wholesome beauty from nature. As a human you need to respect nature, that is a very fundamental virtue and attitude for our daily lives.
Which conscious lifestyle choices are you making? And are you considering any new ones?
I am very much interested in minimal life style keeping just what's necessary. Though I know it is truly not easy to simplify my studio with many materials that I have been collecting for years. Studying solar and wind energy as an element for our future lifestyle is also one of my interests. We have been looking to install solar panels on our cabin located upstate NY. I also dream to have a electric car in the near future. I have also practising silent meditation and practising mindfulness throughout the day. I became more appreciative of walking, doing yoga and cooking good food.
What have you rebelled against in the past, and what are you rebelling against now?
I dreamed and challenged myself rather than rebelled in order to expand my own native Korean traditional boundaries to become a more able woman/person. Following my dream, I studied abroad and travelled to experience many different cultures. I achieved quite a lot as a young woman.  Since I settled down where I live in Rochester, NY, USA, with my husband, three dogs and two cats, I am quite content with my surroundings. I now follow through what I see within myself as an artist.
Do you think dishware can still be improved? If yes, in what way?
Yes, I think so. We eat food with our mouths though eyes arise an appetite for food. Beauty is as important as function for dishware. As I make one of a kind jewellery pieces, the dishware also contains my character or artistic taste.
What was the inspiration for your Steinbeisser pieces?
The idea for my Steinbeisser pieces is based on my recent solo exhibition titled 'Trans-Form'. The main materials for it were recycled paper berry baskets, which have functional slit holes that are reflected in the series of dishware.
Describe your work in 3 words!
Contemporary. Art. Work.
What kind of materials do you use and where do you get them from?
For Steinbeisser I used paper clay. I recently learned hand building clay work. These two clays have similar characters and qualities in many ways. With both clays I added sand for texture from Lake Ontario near where I live. I applied natural dye color from gardenia, beet, aronia powder and some food safe dye for paper clay pieces. For my jewellery, I use mainly organic materials such as textiles or paper, which I acquire from Korea.
What are you working on right now?
I am now working on a contemporary jewellery exhibition with broken Chinese ceramic pieces that I was offered to select from a private collection, this show will be touring internationally for the next few years. I also work on sewing and soldering in my studio on a daily basis, as well as continuing experimental clay work.
What has been your favorite dinner experience?
My favorite dinner experiences are more about the atmosphere than the food itself. When I travel I look for simple and fresh local food. I remember travelling with my sister to the San Francisco bay area many years ago. We ended up in a small beautiful local restaurant, just the two of us there while it was so dark and pouring rain outside. The French chef came out and served his food directly to us and we chatted for long hours while tasting Napa Valley wine. It is a very special memory. With my husband, we travelled to Sicily some years ago and made spaghetti from fresh ingredients with Sicilian wine which we got from a farmers market. It had such a fantastic taste that it stayed forever in our memory. We always try to make it again in the same way at home but it never turns out to be as good as the time back in Sicily. Above all, my most favorite dinner should be the one with my mom who recently passed away. We often had snail soup, which is a specialty local food in my hometown. She loved eating this soup her entire lifetime and I know now that I will never sit together and share the soup with her again.
What excites you about tomorrow?
I love mornings as a new day with new sun, new air and new sky after a restful sleep in my own bed. I am also always excited to see new ideas appear and to explore them in my studio the next day.
What are your 3 favorite pieces on Jouw…?
I like Joo Hyung Park's Moment Plates which are well crafted with a sense of humor, Maki Okamoto's Double Spoon made from a simple idea and very graceful, and Rebecca Deans' Soil Plates which are just made from raw nature material with a texture that is so beautiful and unique.