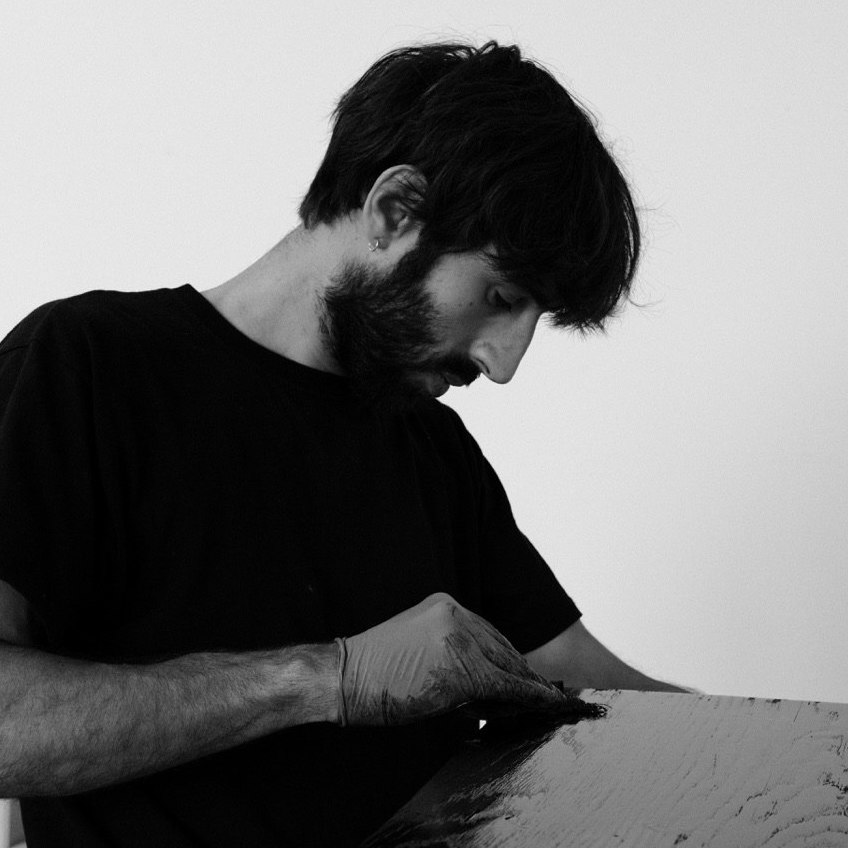 Lukas Cober
Lukas Cober is a craftsman and designer living and working in the Netherlands. Thinking about each piece as a static sculpture he creates a conversation between materiality and shape with a pure outcome. He emphasizes the value and beauty of the chosen raw material to create minimalistic objects that remain timelessly beautiful.
What have you rebelled against in the past, and what are you rebelling against now?
There are many things that would be worth rebelling for but I can't say I am actively rebelling against something. I have my own ideas and values that I live and work for,  not trying to convince others but just live it for myself. If anything stands in the way I just pass it and go on. Really not caring too much about what others think but just do my own thing. A quiet kind of rebellion maybe or just ignorance. Perhaps it's a stubborn way of thinking but consequent enough to be productive, push great ideas forward and enjoy what you do in private as well as professional perspective.
Do you need to be a rebel to enjoy your work?
I think this is answered already in the previous question.
Do you use your own work?
All my pieces have a very personal approach. It all starts with an idea, transformed with material and shape into an object. Objects that I imagine in my own surroundings are therefore also objects that I would like to have myself. Paradoxically it lies in the nature of creativity, that this is a never ending process so the spirit stays but I tend to not keep too much of my own work in order to welcome the new.
Do you think cutlery can still be improved? If yes, in what way?
I think the design of cutlery is very practical and historically very static, only changing slowly. As a practical object cutlery is quite defined and doesn't leave much space to be creative. But for these exact reasons it is a perfect platform for new artistic approaches in order to break rules, challenge and create conversations. I think it's not about improving what there is but about questioning who we are.
What was the inspiration for your Steinbeisser series?
When Steinbeisser approached me to make cutlery for the dinners with Zen Buddhist nun Jeong Kwan, I wanted to create objects that tell a story of something that comes from earth and goes back to earth and seeing beauty in all its states. Inspired by that I worked on a collection of conceptual chopsticks that reflect this image through shape and materialisation. I've been working with burned oak and ceramics lately and thought that these two would be perfect to translate that idea. The outcome are chopsticks made from naturally fallen Oak and Acacia wood as well as black natural fired clay that share the same roughness. The chopsticks are reflecting different material states from natural to altered surfaces, from smooth finishes to raw ashes, from naturally emerging to forced shapes. Some useful, some challenging but all have their right to exist for their own reason.
Describe your work in 3 words!
Minimalistic. Raw. Honest.
What kind of materials do you use and where do you get them from?
Though I like to use various materials for my work, I mainly work with wood from Europe. In its pure form or altered into a different state, I try to let it speak for itself before even thinking about a defined shape that goes in conversation with the material.
What are you working on right now?
I have been working on my new collection called "New Wave" that has recently been released and I am really excited about it. Besides that I am busy creating bespoke pieces and interior projects.
What has been your favourite dinner experience?
My favourite dinner experience was together with a group of friends traveling in Northwest Italy. One of my friends was from that area and took us to a small and quiet farm-to-table family restaurant in the mountains. I didn't expect much but was blown away by the taste of the most simple ingredients in the most simple dishes just by the quality of local and ecological farming.
What excites you about tomorrow?
I am excited about trying out all the ideas that I have and hopefully still find some time in between to go on road trips together with my wife and my dog in our van.
What further ambitions do you have?
I'm dreaming of a second work and living space down south in France or Portugal, changing my working and life with the seasons.
What are your 3 favourite pieces on Jouw…?
The Exploding plates by Adam Knoche, the cutlery by Nils Hint, and the Mountain Plates by Mitch Iburg.