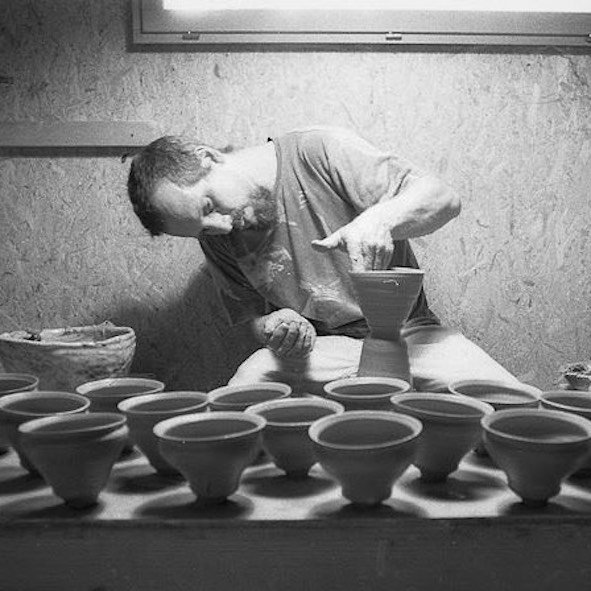 David Louveau
David Louveau is a ceramic artist living and working in Sweden. He approaches his work like a Butoh dancer, accepting impulses and trusting his instincts.
What have you rebelled against in the past, and what are you rebelling against now?
In the past I rebelled against respecting rules blindly. Now I rebel by sharing happiness and the respect for nature and life.
Do you need to be a rebel to enjoy your work?
I need to be free and happy so… yes!
Do you use your own work?
Yes, everyday!
Do you think dishware can still be improved? If yes, in what way?
Yes. First of all by keeping our crafts culture alive, and by steadily improving the process until we reach balance.
What was the inspiration for your Steinbeisser series?
Creating ecological sacral vessels that last a lifetime.
Describe your work in 3 words!
Butoh. Pulpy. Mineral.
What kind of materials do you use and where do you get them from?
Granite stones and sands in Sweden. Artisan mineral water from our ground. Firing with wood from our local bjork and pine trees.
What are you working on right now?
Continuing with the butoh style vessels and some new pieces.
What has been your favourite dinner experience?
A dinner in South Korea close to the sea with raw seafood, fish and fermented vegetables all over the table, it was almost a mystical experience.
What excites you about tomorrow?
The unknown, the pursuit of my crafts and meeting people.
What further ambitions do you have?
I started studying blacksmithing, and experimenting with the process of transformation from clay to stone by using my wood kiln.
What are your 3 favourite pieces on Jouw…?
The works of Sharon Adams, Nils Hint and Myung Urso.