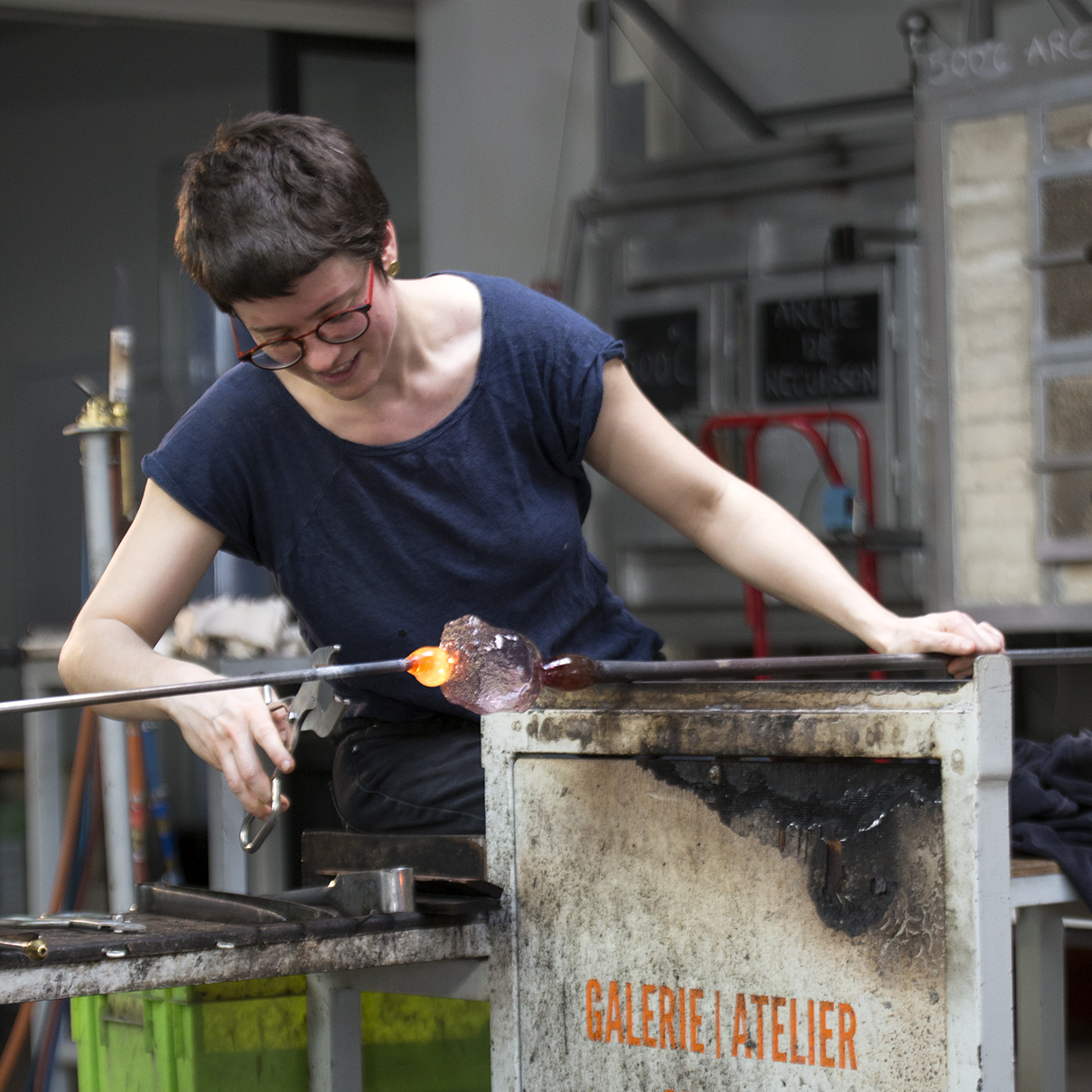 Fabienne Schneider
Fabienne Schneider is a glassblower living and working in France. Her inspiration stems from the female body, geology, fantasy, science-fiction, music, games and boxing. For her being a glassblower means having a playful and intimate dialogue with the hot glass, a stubborn material that keeps on surprising. She believes that there is some kind of soul in each object that can be felt depending on how it was made and how it is used.
If you had access to all the powers, how would you improve the world?
I would create a huge experimental art center and glass art studio in France. Lots of artistic event would occur such as experimental concerts, poetry, video art, performance, graphic arts, crafts, design, food art and many more. That would enable a great contribution to the culture, arts and crafts through human contact. Conferences, round tables and talks could be held by anyone to discuss and exchange thoughts about any current issue.
What are the biggest sustainability challenges in your work and how are you addressing them?
When you work with glass the biggest sustainability challenge is certainly the gas consumption, as glass requires a lot of this energy to be melted and shaped. The glass furnace needs to be heated to 1200'C and stay on night and day for several days, months or years. As glass is a challenging material, it happens quite often that we glassblowers need to do a piece several times before obtaining the result we expect. Instead of throwing away the failed pieces or glass waste, I recycle them, by turning them into another object. I am looking for well insulated furnaces for my future glass workshop to limit my heat consumption.
Which conscious lifestyle choices are you making? And are you considering any new ones?
I choose to live as an artist, a thrilling path that requires a lot of patience and determination. I am trying to always be openminded, meet people, or try new things out. As an example, I am currently learning German and taking singing lessons. I am willing to open myself up more to my own desires and needs, which are as important in my life as in my artistic expression. I think it is a good thing to regularly take the time to focus on our emotions and feelings in order to live in the present moment. I am considering using other artistic ways of expression in my art besides glass, including drawing and maybe singing.
What have you rebelled against in the past, and what are you rebelling against now?
I have been and still am rebelling against patriarchy. Glassblowing has been and still is a completely male dominated job. In the past it was even forbidden for women to practice glassblowing. There is a lot of competition in glassblowing because and a strong hierarchy amongst the glassblowers. In the factory only the most skilled deserved to work on the most important pieces and were highly rewarded, whereas the less skilled suffered physical punishment such as being constantly slapped or burned with pieces of hot glass. Despite this background, working and understanding this material is incredibly rewarding. It requires care, delicacy, fortitude, a lot of patience and an open mind for poetry.
Do you think glassware can still be improved? If yes, in what way
More than glassware itself, I think the idea we have of glassware can be improved in a much more contemporary way, especially in France. Our country is very attached to a vision of tradition and glass would win to be seen not only through its industrial background. There are a lot of possible ways to do so, by experimenting with glass and trying new things out.
What was the inspiration for your Steinbeisser pieces?
The soil inspired me. I just dug a hole in the ground and blew the glass directly into the hole, trusting that the structure of the soil would shape the hot glass in a peculiar way. Because the soil nourishes us, it made sense that these pieces would become drinking glasses.
Describe your work in 3 words!
Raw. Twisted. Free.
What kind of materials do you use and where do you get them from?
My main material is transparent and colored sodocalcium glass that comes from Germany. I also experiment with different types of soils that I find in several regions in France to make my moulds. First I melt the glass in a 1200°C furnace. With another furnace that turns at 1200°C I shape the glass and with the annealer I finish the pieces by letting them cool down slowly. Glass is a demanding material, highly sensitive to temperature shocks, it breaks apart at room temperature.
What has been your favorite dinner experience?
In 2010 when I was studying in the Fine Arts School, one of my artist friends organized a meal based on the concept of cultural cannibalism. Eating the food was part of her project that consisted in creating a brand new society called Phagia. We all cooked colored cakes and other weird food. The Phagia flag was hanging in the dining room, red with white stylised teeth. To illustrate what linked us together she made forks and glasses linked together and that had to be used with the neighbour, so we could act in favor or create difficulties for the other to eat. We had a lot of fun.
What excites you about tomorrow?
Working, learning, discovering, having fun.
What are you 3 favorite pieces on Jouw…?
Being also a musician I'm sensitive to the Bell Spoons by Stian Korntved Ruud. Nick Weddell's plates, they are so alien, organic and liquid looking. And Laia Ribas Valls for her playful and joyful cutlery.