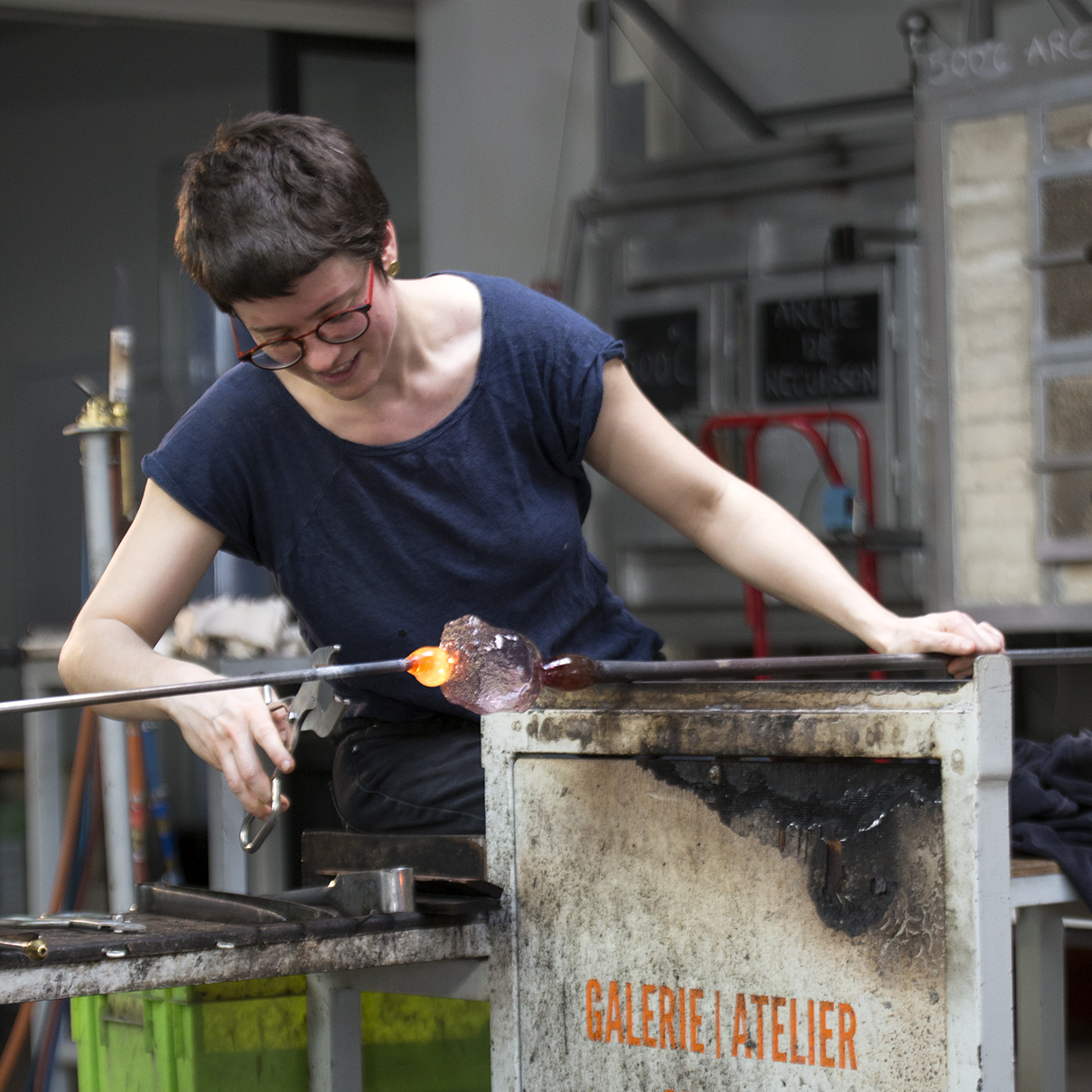 Fabienne Schneider
Fabienne Schneider is a glassblower living and working in France. Her inspiration stems from the female body, geology, fantasy, science-fiction, music, games and boxing. For her being a glassblower means having a playful and intimate dialogue with the hot glass, a stubborn material that keeps on surprising. She believes that there is some kind of soul in each object that can be felt depending on how it was made and how it is used.
What have you rebelled against in the past, and what are you rebelling against now?
I have been and still am rebelling against patriarchy. Glassblowing has been and still is a completely male dominated job. In the past it was even forbidden for women to practice glassblowing. There is a lot of competition in glassblowing because and a strong hierarchy amongst the glassblowers. In the factory only the most skilled deserved to work on the most important pieces and were highly rewarded, whereas the less skilled suffered physical punishment such as being constantly slapped or burned with pieces of hot glass. Despite this background, working and understanding this material is incredibly rewarding. It requires care, delicacy, fortitude, a lot of patience and an open mind for poetry.
Do you need to be a rebel to enjoy your work?
Being a rebel can increase the pleasure of the working process. It can also be a very intimate and strong inspiration for one's art.
Do you use your own work?
Of course! I use my wine glasses to drink particular wines with friends, flatmates and family. I must try them to know how I can make my work evolve. Lately I've been doing glass pieces that I wear on my own body in some artistic performances.
Do you think glassware can still be improved? If yes, in what way
More than glassware itself, I think the idea we have of glassware can be improved in a much more contemporary way, especially in France. Our country is very attached to a vision of tradition and glass would win to be seen not only through its industrial background. There are a lot of possible ways to do so, by experimenting with glass and trying new things out.
What was the inspiration for your Steinbeisser series?
The soil inspired me. I just dug a hole in the ground and blew the glass directly into the hole, trusting that the structure of the soil would shape the hot glass in a peculiar way. Because the soil nourishes us, it made sense that these pieces would become drinking glasses.
Describe your work in 3 words!
Raw. Twisted. Free.
What kind of materials do you use and where do you get them from?
My main material is transparent and colored sodocalcium glass that comes from Germany. I also experiment with different types of soils that I find in several regions in France to make my moulds. First I melt the glass in a 1200°C furnace. With another furnace that turns at 1200°C I shape the glass and with the annealer I finish the pieces by letting them cool down slowly. Glass is a demanding material, highly sensitive to temperature shocks, it breaks apart at room temperature.
What are you working on right now?
I am working on new pieces for the Steinbeisser series by pushing the glassblowing boundaries. In the next few months I'll start a collaboration with an electronic musician from Paris. We will use my ability to make some glass pieces with specific shapes and textures and capture the light that passes through the glass surface in order to let the material create variations of sounds, thanks to a modular synthesizer. The texture for the Steinbeisser series interests us particularly to create special sounds. Exhibitions are planned to show my work near my hometown in Alsace, France. I'm also planning to further develop my artwork and buy materials to build my own furnaces.
What has been your favourite dinner experience?
In 2010 when I was studying in the Fine Arts School, one of my artist friends organized a meal based on the concept of cultural cannibalism. Eating the food was part of her project that consisted in creating a brand new society called Phagia. We all cooked colored cakes and other weird food. The Phagia flag was hanging in the dining room, red with white stylised teeth. To illustrate what linked us together she made forks and glasses linked together and that had to be used with the neighbour, so we could act in favor or create difficulties for the other to eat. We had a lot of fun.
What excites you about tomorrow?
Working, learning, discovering, having fun.
What further ambitions do you have?
Having my own glassblowing studio. One project that thrills me is to develop a whole glow-in-the-dark tableware to organize dinners in a dark, poetic and fantasy atmosphere. I hope to participate in developing a contemporary vision of glass arts in France and give pleasure to people who use my glasses. I also want to work alongside feminist support groups through my work.
What are you 3 favourite pieces on Jouw…?
Being also a musician I'm sensitive to the Bell Spoons by Stian Korntved Ruud. Nick Weddell's plates, they are so alien, organic and liquid looking. And Laia Ribas Valls for her playful and joyful cutlery.